Cabinet Gallery specializes in the design, manufacture, and installation of kitchen and bathroom cabinetry, custom built furniture, architectural millwork, and casework. Tenby Tech developed a new website that showcases their woodworking services as well as their state-of-the-art facilities located in Highland, IL.

LAMPE Graphics LLC is a full service provider of print and printed related products. Specializing in providing customers with a full range of printed solutions. Tenby Tech enhanced their customer portal, to the LAMPE Graphics full-service ecommerce website, to provide a modern and dynamic entrance for their business.

The 2016 World Daffodil Convention will be hosted in St Louis, MO on April 6th -10th, 2016. A worldwide community of daffodil experts and enthusiasts will engage in expert panel discussions, listen to thought-provoking speakers, view an enormous daffodil show, and tour private and public gardens. Tenby Tech developed this website to highlight convention events, showcase convention tours, and allow attendees to register for this upcoming convention.

Abbey Graphic Design & Support Services Inc is an international award winning company specializing in all forms of marketing and graphic design services. Tenby Tech partnered with Abbey, Inc to develop a new web site that highlights their business and focuses on the numerous graphic design, printing, and marketing services they offer.

CD Process is a St Louis based food processing company set up to serve the ingredient processing requirements of the food industry. Tenby Tech developed a new web site to advance their business and focus on the innovative processing offered at CD Process.

Trend-Vantage Trading System is an integrated set of real-time trend indicators that help you consistently and reliably become a more successful investor. They focus their training towards both the novice and experienced investor who is striving to improve their return on investment. Tenby Tech developed a new web site to announce the availability of the Trend-Vantage Trading System services and an additional website to support their Subscribers with continued educational needs.

Sharpline Marketing specializes in combining Marketing with a plan that will give your business a vision of where you want to be and exactly how you'll get there. Tenby Tech developed a new web site to announce the availability of this new and exciting Marketing firm.

Advanced Dental Care & Facial Aesthetics performs both general and cosmetic dentistry, as well as Botox and Dermafill for your face. They provide expert care at affordable prices. Tenby Tech upgraded their web site to depict a professional image and expand their patient base.

My Time Day Spa offers a personalized day spa experience that is affordable and close to home. Tenby Technologies helped them take ownership of their website and updated it to include their latest products, services, and client specials.

Homestead Development LLC is presenting a single-family new home community in Elk City, OK. Four different floors plans are available with numerous amenities. Tenby Tech developed a new web site to promote the homes they have to offer in Elk City.

JD Consulting offers comprehensive human resources consulting services for small-and medium-sized businesses. Tenby Tech helped develop a new web site to promote their business and the services they offer.

Schumacher Auction Service is a St Louis Metro Area auction house that has handled thousands of estate, real estate and commercial/industrial auctions since 1983. Tenby Tech helped them build their Internet presence with a new website and social media to showcase their Auctions and available merchandise.

A local author needed a new blog to promote the National Marrow Donor Program and a new website to promote her writing. Using her existing blog entries, Tenby Tech setup a website and blog Scatching the Surface: Magpie Musings, to promote both avenues of her future endeavors.

Human Service Center provides a wide range of professional mental health and developmental services to meet the needs of residents in Southern Illinois. Tenby Tech helped develop a new web site to promote their organization and the services they provide.

Smithton Business Center is dedicated to providing expert tax and accounting services with professionalism and confidentiality while giving our clients the best possible service at a fair cost. Tenby Technologies developed a website for their thriving accounting and tax business in Smithton, IL.

USA Wealth Partners is a National organization that was formed with a vision and a mission. They provide people with the ability to invest safely and securely in Real Estate even though they may lack the time and knowledge to do it alone.

Queen's Cuisine LLC has a new look for their web site, and they are now selling exquisite English Pastries Online! Attend one of Jane's cooking classes, register for English Afternoon Tea, find English pastries locally at the Farmer's Market, or purchase English cuisine from the comfort of home with their new web site services.

House of Style wanted a new web site to showcase their excellent Salon products and services in Smithton, IL. Their new web site gives House of Style, a fresh new look, allows clients to signup for coupons, and stay in touch with the latest news from their full service Salon.

Heartland Institutional Review Board is a commercial IRB comprised of experienced researchers from a variety of disciplines who are dedicated to finding solutions through research and evaluation processes. This new web site offers expert review of research and program evaluation protocols to ensure compliance with regulations for ethical treatment of human subjects.

Smithton Storage Center is a locally owned and operated self-storage facility. This new web site lists the storage services provided, diagram layouts are available for each storage size, storage tips are provided for your personal and business needs, and a unique self storage space estimator is available.

Maberry Consulting and Evaluation Services LLC has three new web sites and two new videos to help them market their services in the competitive business of grant writing. They offer professional grant writing, proposal writing, consulting and evaluation services to 501(c)(3) agencies, state-registered non-profits, schools and businesses.

Brennan Innovators LLC has an updated web site which now contains rich media and extensive information that helps persons challenged with ADD / ADHD, dyslexia, or other focusing issues. This site is an additional resource for the Reading Focus Card which was also developed by Brennan Innnovators.

The Smithton Chamber of Commerce held their web site training meeting in August which included the introduction of a new web site to support their organization. This web site is a social network which displays chamber events and permits each member to create their own web page.

Mid America Regional Lily Society now has a very extensive and image laden web site to promote their organization and educate the public about the genus Lilium.

Brennan OB/GYN Associates has taken a step onto the internet with the release of a new web site. This site provides patients with an introduction to their practice, as well as, providing extensive information addressing many frequently asked questions.

Bill's in Red Bud needed a new web site to replace an outdated single page site. The new site highlights each of Bill's three businesses, auto repair, a storage facility, & propane refilling, and does it in a stylish way.

The Reading Focus Card helps persons challenged with ADD / ADHD, dyslexia, or other focusing issues. Tenby Tech was proud to help Brennan Innovators, developer of the Reading Focus Card, market their product more effectively.

The People in Business organization needed a new web site to reduce administrative costs, feature volunteers, and improve the visibility of the organization on the internet. Tenby Tech delivered a new People In Business Networking which meets their requirements and allows members to network at any time.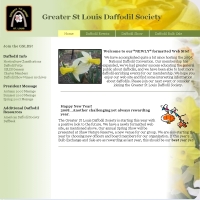 The Greater St. Louis Daffodil Society is the premiere daffodil organization for the St Louis area. This web site was designed to reflect the organization's enthusiasm for daffodils. Search engine optimization has enabled their site to appear near the top of the list for many search engine queries.
Illinois Innovators and Inventors is the oldest organization for inventors in the St. Louis metropolitan area. This site was designed as an information resource for the group and potential members. The site ranks among the top three when searching on most search engines. Please try these searches: Google, MSN, Yahoo
9 to 5 Weekdays:
info@tenbytech.com
618-799-9757
,
3758 Boatmans Point, Belleville, Illinois, USA, 62221